Wow. I lost my sewing mojo shortly before Christmas, and it took a long time to come back this time.
Anybody out there still reading my blog at all?
What brought my mind back to sewing was the quilt show I took part in during my holiday in Denmark. It was so much fun, and very inspiring. We even made it into the newspaper.
I'll tell you more about it soon. ;-)
I came home with lots of ideas, and felt like making the denim pouf out of old jeans that I had planned for years.
Then I embellished the pouf with some perle cotton embroidery.
And now it lives proudly in our living room and I have a place to rest my feet when I'm sitting in my armchair. :-)
It feels so nice to finally do something with all the old jeans I collected, and the huge box of fabric and batting scraps that I collected as stuffing for the pouf is empty, too.
Now I am working on a bag with denim and selvages, and on a denim laptop bag. So hopefully there is more to show soon.
For today I'll leave you with some eye candy: beautiful, bright perle cotton from Tikki Patchwork in London that took only three days to arrive here in germany.
Linking up with Needle and Thread Thursday at
My Quilt Infatuation.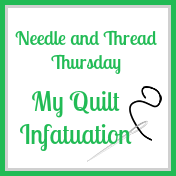 Wow, diesmal habe ich meine Nählust wirklich lange verloren. Es begann kurz vor Weihnachten, und ich habe sie erst kürzlich im Urlaub wiedergefunden, bei der Quiltausstellung, an der ich in Dänemark teilgenommen habe.
Es war schön, dort mal wieder neue Ideen und Impulse zu bekommen. Wir waren sogar in der Zeitung, mit einer Bildergalerie. Mehr dazu bald in einem separaten Blogpost.
Jedenfalls kam ich mit lauter Ideen nach Hause, und als erstes habe ich endlich das getan, was ich schon soo lange vorhatte: einen Pouf aus alten Jeans zu nähen. Das hat auch super geklappt. Ich habe mich so ungefähr an diese Beschreibung gehalten, habe aber die Maße etwas verändert.
Und nun lebt der Pouf in unserem Wohnzimmer, macht sich dort sehr gut, und ich habe endlich ein Plätzchen für meine Füße, wenn ich in meinem Sessel sitze.:-)
Endlich die alten Jeans zu recyceln fühlt sich wirklich gut an, und es gibt wieder mehr Platz im Schrank, auch weil die große Kiste mit Stoff- und Battingresten nun leer ist, die ich extra als Füllung für den Pouf gesammelt hatte.
Jetzt arbeite ich an einer Tasche aus Jeans und Webekanten, und an einer Laptoptasche aus Jeans, es gibt also bald noch mehr zu Zeigen.
Für heute schließe ich mit einem Foto von den schönen, bunten Perlgarnen, die von Tikki Patchwork in London angekommen sind und nur 3 Tage unterwegs waren.