The yellow and blue Scrappy Trips Quilt for my husband is finished! :-)
I hope he will like it. His birthday is at the 15th, so I have to wait and try to be patient until then.
Normally he is my trusty quilt holder when I take photos. Now I had to make do without him and taped the quilt onto my cupboard doors.
The first picture was made with flash, the second one without flash. You can see the quilting lines better in the second pic, but the colors are better in the first.
I quilted by hand (big stitch quilting) with perle cotton #8 in four different colors: a sunny yellow and three blues from light to dark.
The binding is a 1990s print with blue and yellow flowers on navy. It was in my stash for so long and now it finally found it's perfect project.
I'm still searching for a name, but now that I see the quilt in this blue corner of the living room, I think "the Blue Hour" (die blaue Stunde) would be nice. It's also my favorite time of the day.
It took me two months to make this quilt. I wanted to keep it completely secret and so I could only work on it when my hubby was at work.
I think I managed to keep him clueless - thankfully he never reads my blog or looks at my pictures on the computer. I'm sooo looking forward to watching him unwrap his present!
The quilt measures 58 1/2" x 70 1/2" (148 x 179cm).
The pattern is Bonnie K. Hunter's "Scrappy Trips around the World". It was surprisingly quick to sew and a lot of fun!
I used a zig zag setting for my 4x5 blocks and made the scrappy outer border from all the leftovers.
My sweetie really deserves his own quilt and I hope he will like it! Everyone else in my family has at least one quilt made by me. We are married for five years this October so it was high time to make one for him, too!
I know that he would like a Mariner's Compass Quilt, and one day I will happily make one for him, but that would be almost impossible to do secretly. So, now he first gets a quilt to keep him warm this coming winter, and when I'll make the Compass quilt, I will incorporate him into the fabric choices and the design process.
Juhu, der Scrappy Trips Quilt für meinen Mann ist fertig!
Ich hoffe sehr, daß er ihn mögen wird!
Sein Geburtstag ist am 15., also muß ich noch etwas Geduld haben.
Normalerweise ist mein Mann mein treuer Helfer und Quilthalter beim Fotografieren, aber jetzt mußte ich ja ohne ihn klarkommen. Also habe ich den Quilt auf die Schranktüren geklebt.
Das erste Bild ist mit Blitz, das zweite ohne. Auf dem zweiten sieht man die Quiltlinien besser, aber die Farben sind auf dem ersten besser.
Gequiltet habe ich von Hand mit Perlgarn #8 in vier Farben: einem sonnigen Gelb und drei verschiedenen Blautönen.
Das Binding ist ein 90er-Jahre-Stoff mit blauen und gelben Blumen auf dunkelblau. So lange war er in meinem Vorrat, und nun hat er sein perfektes Projekt gefunden.
Zwei Monate hat es gedauert, den Quilt heimlich zu machen, da ich nur daran werkeln konnte, wenn mein Schatz auf der Arbeit war und ich auch Zeit hatte. Aber ich glaube, ich habe es geschafft, meinen Liebsten völlig im Dunkeln tappen zu lassen. Zum Glück liest er nie meinen Blog und schaut sich auch nicht meine Bilder auf dem PC an.
Der Quilt ist 148 x 179 cm groß.
Ich glaube, ich nenne ihn "die blaue Stunde". Nachdem ich das Foto mit dem Schaukelstuhl gesehen habe, kam mir der Name in den Sinn, und es ist auch meine liebste Tageszeit.
Mein Schatz verdient es wirklich, jetzt endlich seinen eigenen Quilt zu bekommen. Jeder andere in meiner Familie hat schon mindestens einen von mir, nur er nicht, obwohl wir im Oktober schon 5 Jahre verheiratet sind.
Ich weiß, daß er sehr gerne einen Mariner's Compass Quilt hätte, aber das wäre fast unmöglich heimlich zu schaffen. Also bekommt er jetzt erstmal diesen Quilt, um sich im kommenden Winter darin einzukuscheln, und wenn ich den Compass in Angriff nehme, dann beziehe ich ihn in Farb-und Stoffauswahl und ins Design mit ein.
Linking up with TGIFF at Quokka Quilts
...and with Needle and Thread Thursday at My Quilt Infatuation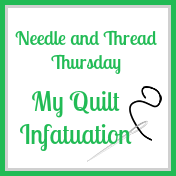 ...and with Finish it up Friday at Crazy Mom Quilts!