Some days ago I had an idea for an arrow quilt, and this scribble in my sketch book...
...became this little quilt top.
I used the black Madrona Road text fabric as the background and a few more script fabrics for the arrows, together with some more favorite prints.
It was a bit tricky to make sure that the text was right side up and in the right direction in all the small pieces, but I think it was worth it. I really love the Madrona Road text fabrics.
So far I am quite pleased with the result. It is really great to see how a little sketch comes to live.
I made some pics during the progress and am planning to do a little tutorial for this quilt, if you are interested. Please let me know. ;-)
I´m linking up with Quilt Story´s Fabric Tuesday!
Please go and
have a look there, it´s a beautiful blog with a LOT of amazing projects, quilts and stories!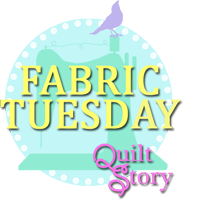 A lot of eye candy and interesting projects over there, too.